Eating Well
Is The Best Reward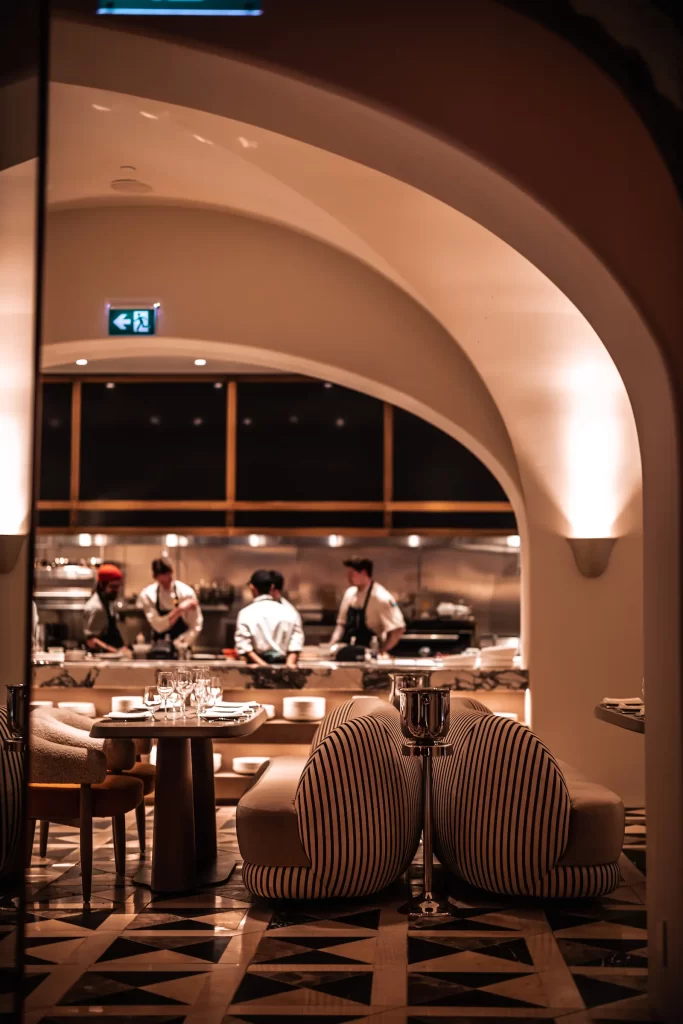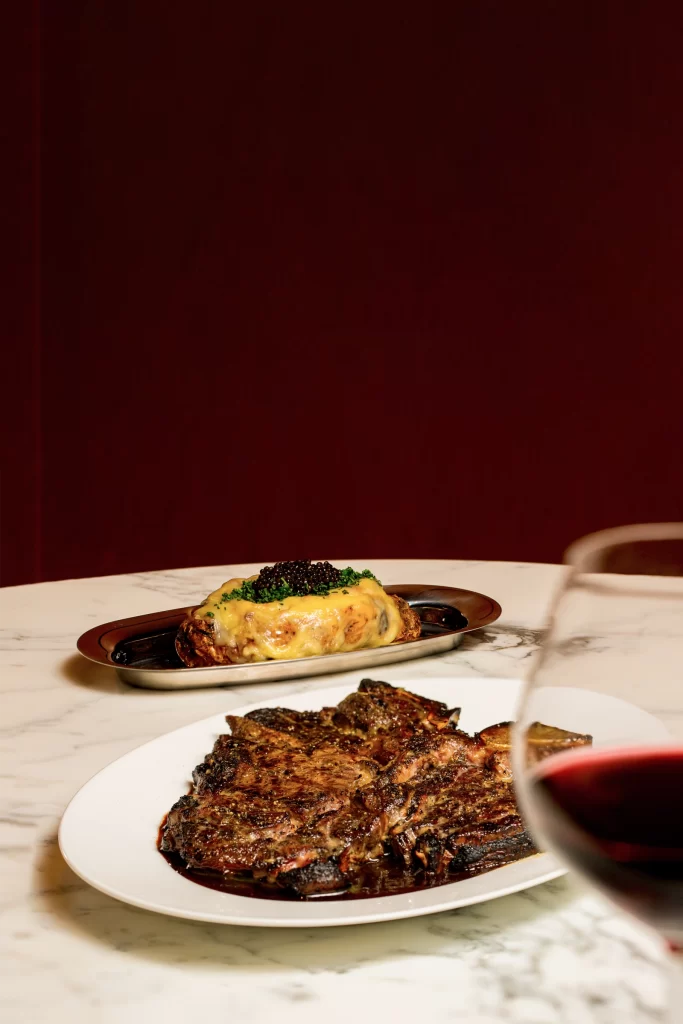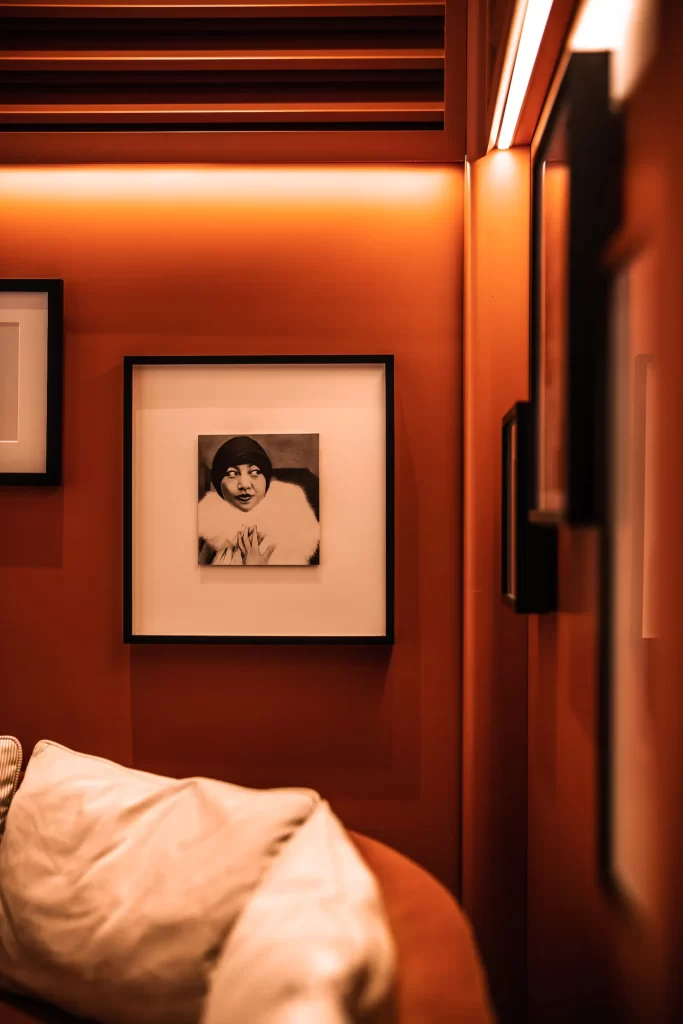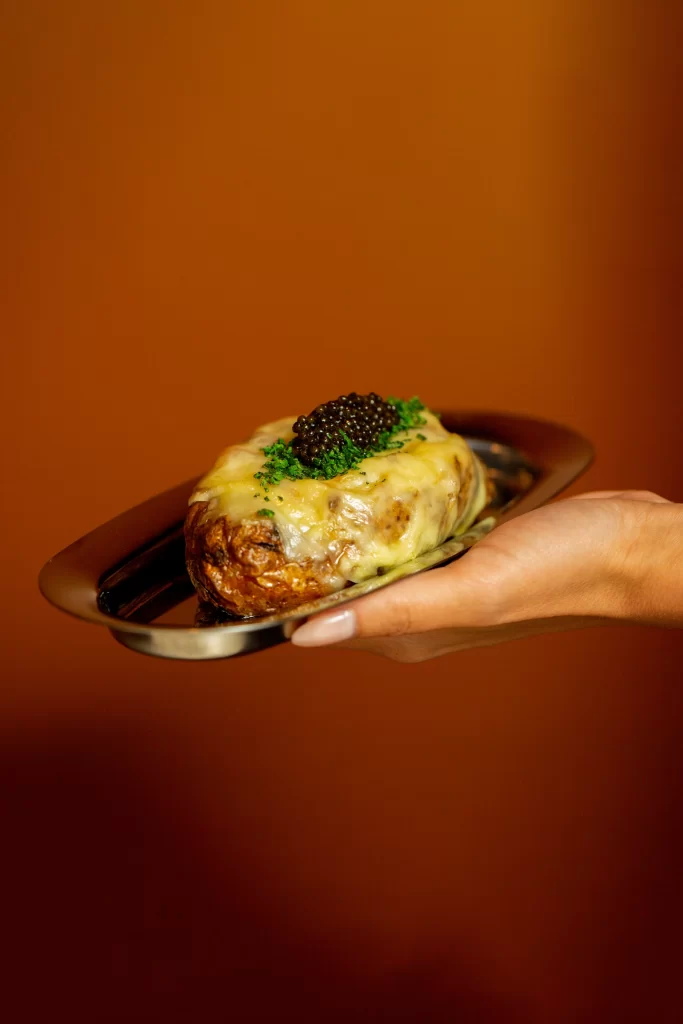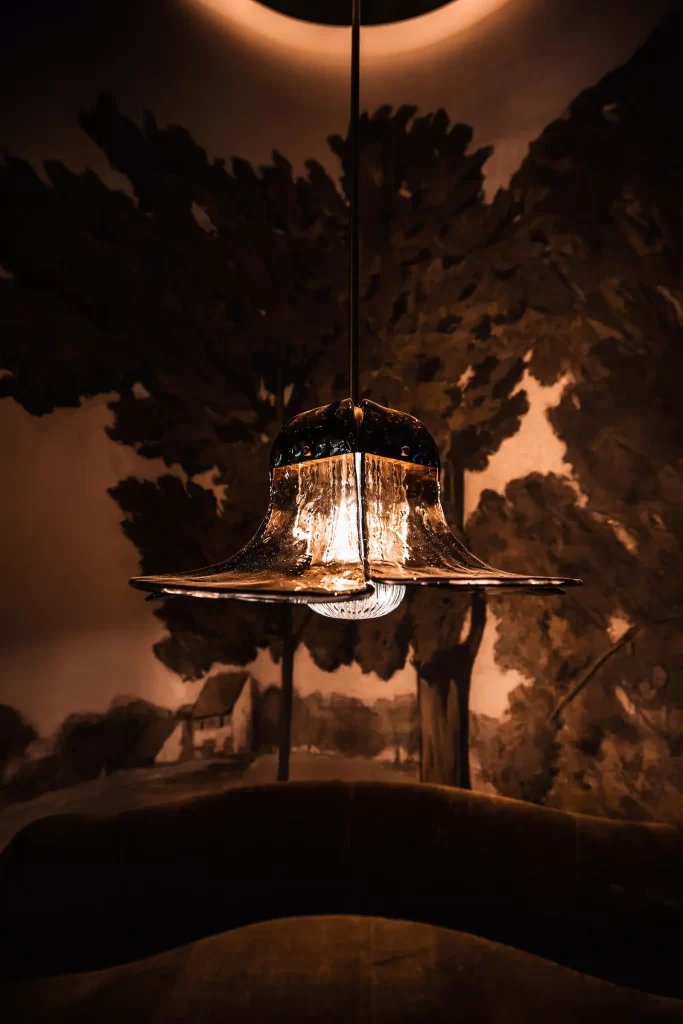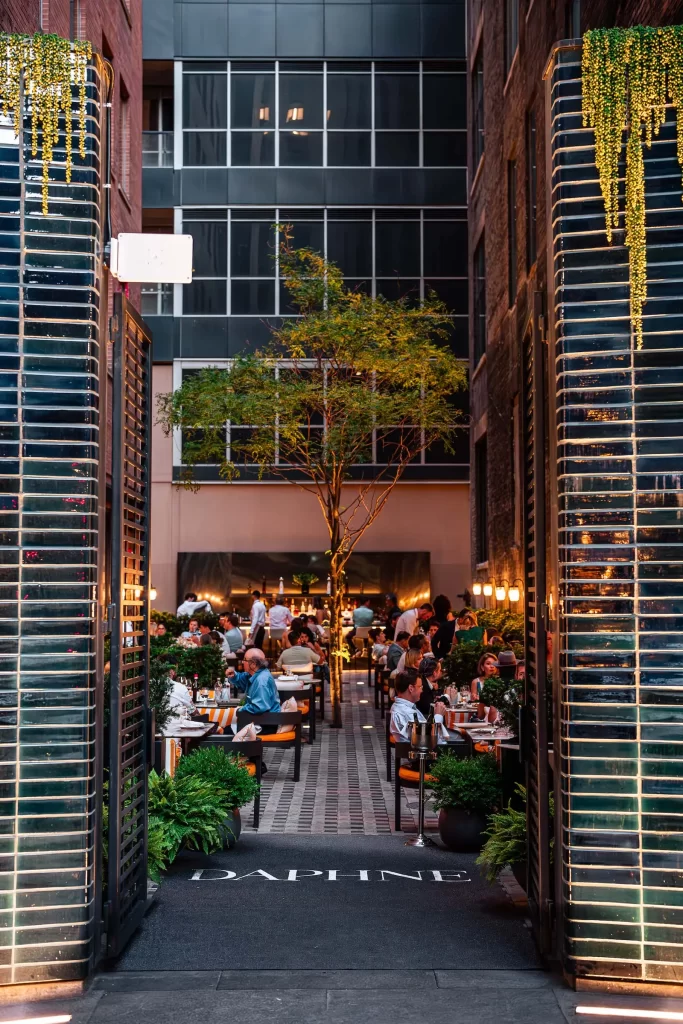 Daphne, mythical champion of victors and enabler of excellence, she entices all to fulfill their heart's desires — to drink well, dine well, live well.
Escape from the ordinary at Daphne. A stunning new restaurant from INK Entertainment Group and Dream, offering a Modern American experience in Toronto's Financial District.
Here, eating well is the best reward.
OLIVES | 8
lemon oil, pickled fennel, za'atar
IBÉRICO HAM | 26
ibérico de bellota, hand sliced 48 month acorn-fed
BREAD & BUTTER | 8
selection of house-baked sourdoughs, whipped cultured butter
FRESH OYSTERS | 27 HALF DOZEN | 52 DOZEN
east coast and west coast, aperol spritz mignonette, house hot sauce
SHRIMP COCKTAIL | 27
cocktail sauce, mustard aioli
TUNA CARPACCIO | 28
calabrian chili, bergamot, fried shallot, arugula
TEMPURA SQUASH | 16
yogurt, mint, honey nora peppers
CHARRED PADRON PEPPERS | 16
sea salt, romesco sauce, lemon
SALT SPRING MUSSELS | 23
vermouth, crème fraÎche, fresh herbs, paprika oil
BEEF TARTARE | 25
chili, cornichons, capers, truffle, house sourdough
LITTLE GEM |20
pistachio, brioche pangritata, fresh herbs, garlic parmesan dressing
TOMATO NECTARINE | 26
stracciatella, calabrian chili, purple basil, preserved lemon
BUTTER LETTUCE | 19
avocado, puffed quinoa, tarragon dressing, pernod vinaigrette
ADD
6oz BC salmon | 17
roulade of quebec chicken | 12
HOUSE | 29
tomato, buffalo mozzarella, basil, sesame
ZUCCHINI | 30
field spinach, anchovy crema, pesto, goat cheese, lemon
FUNGHI | 32
chanterelle cream, fontina, roasted onion, wild mushrooms, pickled ramps
BLACK TRUFFLE | 36
taleggio, heirloom potato, potato crema, farm egg
ADD
nduja sausage I 8
ibérico chorizo | 8
truffle | 8
all sandwiches are served with
a choice of little gem salad or hand cut fries
DAPHNE BURGER | 32
selection of prime beef cuts,
caramelized onions, aged cheddar, house fries
CLUB SANDWICH | 28
seared yellow fin tuna, tarragon aioli,
black pepper bacon, heirloom tomato, borani
TURKEY | 27
smoked turkey breast, truffle apple compote,
aged cheddar, poppy seed challah bun
BRANZINO | 46
jalapeno, lime
KING SALMON | 48
caviar, citrus beurre blanc,
fennel pollen, pickled fennel
CAULIFLOWER | 32
smoked almond, roasted grapes, amaranth
SPAGHETTI UBRIACHI | 30
red wine, tomato, basil, parmesan
DUCK MAFALDA | 35
cavolo nero, pecorino, pangritata
CHICKEN | 42
organic quebec chicken,
orange, bourbon jus
STEAK FRITES | 48
8oz flat iron, bordelaise,
horseradish crema, hand cut fries
NEW YORK STRIPLOIN | 72
12oz new york striploin, bordelaise
BRUSSELS SPROUTS | 14
mimolette, garlic, green chili vinaigrette
HARICOTS VERTS | 15
lemon, stracciatella, fresh herbs, flaked almonds
HAND CUT FRIES | 12
house made ketchup, sea salt
CROISSANT | 8
double cream, house jam
BREAD & BUTTER | 8
selection of house-baked sourdoughs, whipped cultured butter
OLIVES | 8
lemon oil, pickled fennel, za'atar
IBÉRICO HAM | 26
ibérico de bellota, hand sliced 48 month acorn-fed
CHARRED PADRON PEPPERS | 16
sea salt, romesco sauce, lemon
FRESH OYSTERS | 27 HALF DOZEN | 52 DOZEN
east coast and west coast, aperol spritz mignonette, house hot sauce
SHRIMP COCKTAIL | 27
cocktail sauce, mustard aioli
RICOTTA TOAST | 16
sourdough, house made ricotta, caramelized date jam
FRUIT PARFAIT | 15
winter citrus and stone fruit, yogurt, wildflower honey, sumac granola
TUNA CARPACCIO | 28
calabrian chili, bergamot, fried shallot, arugula
FRENCH TOAST | 24
poached concord grapes, calvados crème anglaise
PANCAKES | 22
berry compote, lemon curd, coconut, maple syrup
DAPHNE BREAKFAST | 26
2 eggs, ibérico & cranberry sausage, charred tomatoes,
rosti potato, sourdough bread
SHAKSHUKA | 24
chilies, charred peppers, poached egg, basil, sourdough bread
CLUB SANDWICH | 28
seared yellow fin tuna, tarragon aioli, black pepper bacon,
heirloom tomato, borani, house fries
CURED SALMON | 24
rosti potato, horseradish crèma, sumac red onions, cucumber, preserved lemon
STEAK AND EGGS | 52
6oz prime tenderloin, bordelaise sauce, runny egg, potato hash
EGGS BENEDICT | 24
charred corn biscuit, poached egg, avocado, hollandaise sauce, pepper jam
ADD
poached lobster | 16
LITTLE GEM | 20
pistachio, brioche pangritata, fresh herbs, garlic parmesan dressing
BUTTER LETTUCE | 19
avocado, puffed quinoa, tarragon dressing, pernod vinaigrette
TOMATO NECTARINE | 26
stracciatella, calabrian chili, purple basil, preserved lemon
ADD
6oz BC salmon | 17
roulade of quebec chicken | 12
DAPHNE BURGER | 32
selection of prime beef cuts, caramelized onions, aged cheddar, house fries
SPAGHETTI UBRIACHI | 30
red wine, tomato, basil, parmesan
KING SALMON | 48
caviar, citrus beurre blanc, fennel pollen, pickled fennel
CAULIFLOWER | 32
smoked almonds, roasted grapes, amaranth
CHICKEN | 42
organic quebec chicken, orange, bourbon jus
RIB EYE 16 OZ | 95
served with bordelaise sauce
HOUSE PIZZA | 28
tomato, stracciatella, basil, sesame
FUNGHI PIZZA | 32
chanterelle cream, fontina, roasted onion, wild mushrooms, pickled ramps
HAND CUT FRIES | 12
house made ketchup, sea salt
HASH BROWN | 14
hollandaise, chives, truffle cheese
EGGS | 7
2 pcs any style
VINE RIPENED TOMATO | 8
charred vine tomato, basil, sea salt
IBÉRICO & CRANBERRY SAUSAGE | 12
olive oil
HOUSE BACON | 10
black pepper, maple
OLIVES | 8
lemon oil, pickled fennel, za'atar
IBÉRICO HAM | 26
ibérico de bellota, hand sliced 48 month acorn-fed
BREAD & BUTTER | 8
selection of house-baked sourdoughs, whipped cultured butter
FRESH OYSTERS | 27 HALF DOZEN | 52 DOZEN
east coast and west coast, aperol spritz mignonette, house hot sauce
SHRIMP COCKTAIL | 27
cocktail sauce, mustard aioli
TUNA CARPACCIO | 28
calabrian chili, bergamot, fried shallot, arugula
TEMPURA SQUASH | 16
yogurt, mint, honey, nora peppers
CHARRED PADRON PEPPERS | 16
sea salt, romesco sauce, lemon
ROASTED BONE MARROW | 33
ficelle, chermoula, port jam
SALT SPRING MUSSELS | 23
vermouth, crème fraÎche, fresh herbs, paprika oil
BEEF TARTARE | 25
chili, cornichons, capers, truffle, house sourdough
LITTLE GEM | 20
pistachio, brioche pangritata, fresh herbs, garlic parmesan dressing
TOMATO NECTARINE | 26
stracciatella, calabrian chili, purple basil, preserved lemon
BUTTER LETTUCE | 19
avocado, puffed quinoa, tarragon dressing, pernod vinaigrette
HOUSE | 29
tomato, buffalo mozzarella, basil, sesame
ZUCCHINI | 30
field spinach, anchovy crema, pesto, goat cheese, lemon
FUNGHI | 32
chanterelle cream, fontina, roasted onion, wild mushrooms, pickled ramps
BLACK TRUFFLE | 36
taleggio, heirloom potato, potato crema, farm egg
ADD
nduja sausage I 8
ibérico chorizo | 8
truffle | 8
served with bordelaise sauce
WAGYU BAVETTE STEAK 5 OZ | 57
NEW YORK STRIPLOIN 12 OZ | 72
RIB EYE 16 OZ | 98
PORTERHOUSE 24 OZ | 165
CÔTE DE BOEUF 40 OZ | 220
ADD
maître d'hôtel butter or caramelized onion butter | 4
BRANZINO | 46
jalapeno salsa, lime
RED SEA BREAM | MP
olive oil, capers, lemon
KING SALMON | 48
caviar, citrus beurre blanc, fennel pollen, pickled fennel
TUNA RIBEYE | 65
16oz tuna steak, brumale truffle ponzu, shiso chimichurri
CAULIFLOWER | 32
smoked almond, roasted grapes, amaranth
SPAGHETTI UBRIACHI | 30
red wine, tomato, basil, parmesan
DUCK MAFALDA | 35
cavolo nero, pecorino, pangritata
DAPHNE BURGER | 32
selection of prime beef cuts, caramelized onions, aged cheddar, house fries
CHICKEN | 42
organic quebec chicken, charred citrus, bourbon jus
BRUSSELS SPROUTS | 14
mimolette, garlic, green chili vinaigrette
HARICOTS VERTS | 15
lemon, stracciatella, fresh herbs, flaked almonds
HAND CUT FRIES | 12
house made ketchup, sea salt
SUNCHOKES | 16
sunflower tahini, brown butter, caramelized honey
TRUFFLE BAKED POTATO | 18
whipped potato, crème fraiche, chives, black truffle
CAVIAR BAKED POTATO | 38
whipped potato, crème fraiche, chives, caviar
KALAMANSI TART | 15
kalamansi curd, red fife sable,
sweet cream, spearmint
COCONUT CREAM PIE | 17
white chocolate, coconut cream,
passionfruit gel, coconut crunch
STRAWBERRY SHORTCAKE | 18
vanilla sponge cake, makrut lime cream,
black sesame, ontario strawberries
THE DAPHNE BAR | 16
dark chocolate mousse, tonka caramel,
popped amaranth brittle, frozen yogurt
ICE CREAM SUNDAE | 15
embered vanilla ice cream, fire smoked caramel, candied marcona almonds,
hazelnut praline and almond crumble, maldon salt
SORBET TRIO | 12
seasonal sorbet trio using local fruits
RIGHT ON THYME | 20
ketel one vodka, aperol, strawberry, sour cherry, lime, thyme
HERBALTINI | 24
patrón silver tequila, limoncello, green chartreuse,
kiwi, ginger, lime
GEORGIA SOUR | 22
balsam fir infused bulleit bourbon, lemon,
peach, egg white, whiskey barrel bitters
67 SHAKEN | 22
belvedere vodka, campari, passion fruit purée,
harissa jallab syrup, lime
MIDNIGHT CAP | 20
grey goose vodka, tia maria, espresso
ALLEYWAY MULE | 20
don julio blanco tequila, sombra mezcal, lime, ginger beer, bitters
SOUTHERN OLD FASHIONED | 22
woodford reserve bourbon, angostura bitters,
whiskey barrel bitters, sweet fern catkin infused honey
DAPHNE'S NEGRONI | 22
cherry and sweet gale infused bombay sapphire gin, campari, carpano antica, fondillon luis xiv vermut
PINEAPPLE HABANERO MARGARITA | 22
1800 silver tequila, cointreau, pineapple, lime, habanero, jalapeño
THE SMOKED CHARGING BULL | 22
st-rémy vsop brandy, amaro nonino, amaro del capo, fernet branca, martini rosso, cinnamon, clove, lemon, rare honey
THE BOTANIST | 15
ceder's rose, guava purée, lime, grapefruit, soda
GARDEN TONIC | 15
ceder's crisp, cucumber syrup, lime, tonic water
BOTTLES & CANS
BUD LIGHT | 10
MILL ST ORGANIC | 10
CORONA | 10
HOEGAARDEN | 10
GOOSE ISLAND IPA | 10
NEGRA MODELO | 10
BRICKWORKS BATCH CIDER | 11
DRAUGHT
STELLA ARTOIS | 12
SHOCK TOP | 12